Ultimate Poker has been perhaps the most active online poker site in the U.S., throwing essentially everything except the kitchen sink against the wall to see what sticks. Namely, they have been focusing on promotional and marketing efforts.
There have been a lot of changes at Ultimate Poker since they dealt the first hand of legal online poker in Nevada back on April 30, 2013. With a bevy of sponsored pros dropped and added, the company has also seen quite a bit of turnover in its management team.
This is primarily because Joe Versaci leaving his post as Chief Marketing Officer and being replaced by Todd Kobrin, formerly of 888.
The company has gotten a lot right and it has also gotten a lot wrong. People should give Ultimate credit, however, as they seem to constantly try and push the envelope and improve their product and brand.
Live And Online Convergence
UP has decided to make an attempt at WSOP/WPT, which is similar to their convergence of live and online poker with the announcement of their Ultimate Poker live Series at the Green Valley Ranch.
The series is a combination of online tournaments and live qualifiers, as well as several ways to qualify such as winning the weekly MTT leader-board, all leading to a live event. According to Ultimate Poker, the Main Event at Green Valley Ranch will have from 50-80 entrants and will have a $10,000 guarantee.
Unlike one-off tournaments like the WSOP or WPT events at the Borgata, Ultimate Poker is hoping to make the Live Series an ongoing monthly event.
How this will be received is anyone's guess as the prize-pool isn't enough to really attract tournament grinders, and the qualifying tournaments seem a bit out of the price range of the typical micro-stakes grinder that would find a $10k guaranteed event appealing.
Still, the willingness to work on converging their online and live products is an important step by Ultimate Poker, and one other poker sites should consider working harder to implement.
I have given UP a ton of credit since they launched for thinking outside the box, and this latest promotion is no different.
The YouTube Medium
The one area where Ultimate Poker has found a niche is on YouTube. In addition to video series that have been created for the sites sponsored pros (more on this in a moment), Ultimate Gaming CEO Tom Breitling regularly appears in web videos detailing the latest happenings at the site and the company's overall vision in a series called Year 1: Lessons Learned.
UP's YouTube channel currently boasts 75 videos, documenting everything from UFC matches, to Ultimate Poker dealing the first hand of legalized online poker in the U.S., to strategic poker content.
Sponsored Pros And Web Videos
When they first went live, the site signed a robust roster of sponsored poker pros, which they have now pared down to just four players.
However, these four are heavily marketed players: brand ambassador Antonio Esfandiari, Danielle Anderson, Dan O'Brien, and Jason Somerville.
Gone are Jeremy Ausmus, Randy Dorfman, Phil Collins, Brent Hanks, William Reynolds, Lauren Kling, and most notably Terrence Chan.
What is not surprising is that all four of the players still on the roster have been active in UP's marketing efforts, specifically when it comes to web videos. As I said, UP seems to be using a throw everything against the wall strategy and these are the four players that "stuck."
Antonio Esfandiari partook in a six-part web video series where he went back to his roots and performed street magic in Las Vegas in a series called Strip Magic.
Dan O'Brien and Danielle Anderson compete in the popular Me vs. U series where the duo take on some off the wall competition with the loser being embarrassed in public.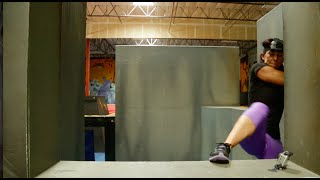 Jason Somerville hosts a semi-regular podcast and is more or less the face of the site on social media.
Along with a solid customer service department (although people seem to be complaining about this a bit more in recent months) UP has done the best job of any online operator in the U.S. when it comes to this type of marketing.
But is it enough?
Is It All About Software?
Ultimate Poker's decision to launch with a stripped down version of their software in order to be first has definitely paid dividends in Nevada.
The site currently has 1/3 of the market share which is astounding considering they currently have about a 1% market share in New Jersey (UP has a 2% market share of online poker revenue year-to-date in NJ), where a synchronized launch was carried out.
UP has essentially proven there is a first-mover advantage in online poker (the company had a six-month jump on all of their competitors in Nevada) but precisely how long that advantage will last is unclear.
What is clear is that Ultimate Poker's software simply doesn't stack up to WSOP.com's, and considering WSOP.com's software isn't exactly setting the world on fire this is only going to become a more pronounced problem as more companies enter the market space(Assuming they launch with solid software platforms).
In my opinion, this is still Ultimate Poker's #1 obstacle. Until the site has a competitive software client all of the other positives they have brought to the industry will be for naught.