Update: The Golden Knights ended this partnership three days after the announcement.
Vegas Golden Knights President Kerry Bubolz announced a first-of-its-kind partnership with UpickTrade on Tuesday. The company is now the "Official Sports Pick Service Partner of the Vegas Golden Knights."
This deal is unique in two ways. First, the partnership with UpickTrade is the first between a Mexican-based company and an NHL team. Second, the company is also the first pick-selling service to partner with the hockey league.
As part of this deal, Upicktrade will be featured on Vegas Golden Knights web and social media platforms, as well as an in-game feature and in-arena branding on the boards.
Golden Knights touting the tout
Sports betting pick sellers are often called touts. There are multiple definitions for the word tout.
A person or business may tout a project for being great. In the world of sports and sports betting, a tout is seen as someone who will "solicit, peddle, or persuade importunately" their picks.
Golden Knights Vice President of Global Partnerships Mike Mungiello says:
"We are thrilled to partner with UpickTrade.com and become the first professional sports franchise to partner with a sports recommendation service."

"We are hopeful our fanbase will make UpickTrade.com a part of their sports pick betting process."
Early reaction to this partnership on Twitter wasn't kind to the announcement.
What is UpickTrade?
UpickTrade is a sports betting pick recommendation service created in 2017. In three years of business, UpickTrade has amassed 6,000 subscribers.
The company based in Guadalajara, Mexico says it has an "algorithm to deliver the best sports betting picks for the NFL, NBA, MLB, and NHL." UpickTrade is currently charging $89 a month for its picks in each league. It charges another $89 per league just for the raw data.
Upicktrade also offers money management recommendations "so clients can best balance risk versus reward on each transaction." Carlos Lazo Reyes, CEO of UpickTrade says:
"As an Official Sports Recommendation Pick Service of the Vegas Golden Knights, it is a historic moment in the sports betting market."
If nothing else, a professional North American sports league partnering with a pick seller is certainly a "historic moment in the sports betting market."
What's the big deal?
Sports betting pick-selling companies and individual touts have a negative reputation for being pushy and not transparent. The job of a pick-selling service is to obtain subscribers and generate revenue.
The picks aren't necessarily wagers the company or individual will place. This is important to remember when thinking about a pick-selling service.
These companies or individuals will tout their pick records in a variety of ways. Some will be completely transparent with the highs and lows of their years. There are others who will manipulate the data to make their pick selling records look better than they are over time.
There are also potential responsible gambling issues with the partnership. UPickTrade advertises its services as a way to make money betting on sports. The American Gaming Association's code of conduct for sports betting marketing stipulates that members cannot advertise gambling as a guaranteed way to make money. With that in mind, the Golden Knights might be in hot water if any similar language appears on their official site.
Touting tactics
UpickTrade boasts pick records ranging from +29.4% to +687.24% annually, per its websites. Typically, a sports bettor must win 52.4% of their wagers on games to just break even.
Websites can clean up the image of a pick-selling service but that doesn't mean there isn't a dark side. Pick sellers and their affiliated companies can use high-pressure tactics to keep subscribers paying for their service.
Remember, the pick seller makes money from the subscriber, not their picks. Part of the job is to keep customers on paid plans for picks. Manipulating data is one way. Aggressive marketing and promotional tactics are another way.
Last year, two men were charged with having a $30 million sports betting pyramid scheme. The men in the case lied about their record in sports betting to just 600 customers. UpickTrade says the company has 10 times the number of clients already.
The scheme above is just one high-profile example of unscrupulous behavior by pick sellers. More frequently, individual recreational bettors are the target of pick sellers.
The high-pressure tactics frequently have the most impact on problem gamblers. It would not be a surprise to hear responsible gaming advocates speak up about this deal.
For better or worse this is certainly a historic deal.
All we want is winners
There's very little information on how this deal between the Golden Knights and UpickTrade. All sports partnerships should make the viewing experience better for the fans.
How will this deal make watching Golden Knights games better? Will the Golden Knights social media accounts and games on TV be littered with commercials like this?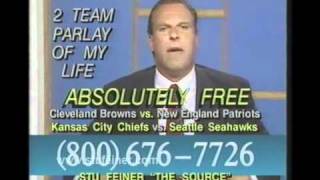 Sports bettors who pay for picks just want winners. These bettors often don't have the time or patience to research their own bets. There's certainly some demand for this kind of service.
The partnership puts a pick-selling company in bed with a professional sports team. This is unchartered territory for all sides of this deal. It's unclear how any Golden Knights fan will benefit from this partnership.