June 4 is the target date for Nevada casinos to reopen.
Derek Stevens, owner of The D and Golden Gate casinos announced his properties will be ready to open on that date. As usual, the independent casino operator has a little more to offer than just opening the doors to his casinos.
"Derek Stevens is giving away 1,000 free flights to Las Vegas from more than 20 major U.S. cities. Stevens' "Keep America Flying" promotion."
According to the promotional video below, flights were available for anyone that would like to visit Las Vegas. Of course, he'd prefer people to stay at one of his two hotels that will be open, but it wasn't a requirement.
Circa Resort, Derek Stevens' third casino in downtown Las Vegas, is still under construction across the street from the Golden Gate.
Keep America Flying program
The promotion is intended to help stimulate the tourism and airline industries while reminding the country of the fun to be had in Las Vegas. Participants were able to book a free one-way airplane ticket to Las Vegas by signing up at theD.com.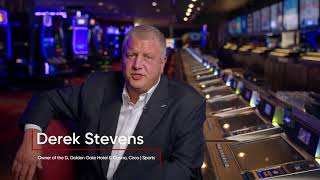 Tickets were available on a first-come, first-serve basis. The first 1,000 flights were gone in about an hour. Stevens added 700 more free flights from new locations later on in the afternoon. Those flights were also taken in just a couple of hours. Stevens' spoke about his choice in the promotional video:
"As we begin to reopen our doors across the city, we are proud to help reinvigorate travel to Las Vegas while supporting airlines in America impacted by the COVID-19 crisis. We can't wait to safely bring visitors to the city and remind them why we've earned the title of 'Entertainment Capital of the World.' And while we'd love for visitors to stop by Downtown Las Vegas, we primarily want to get people back to Las Vegas to experience the attractions and amenities that make it one of the greatest places on Earth."
According to Vital Vegas, Wednesday was one of the busiest days for booking rooms for both The D and Golden Gate casinos.
One-way flights to Las Vegas
The free one-way flights were available through several American airline carriers, including Allegiant, Frontier Airlines, Southwest Airlines, Spirit Airlines, and Sun Country Airlines. Once registered, guests could choose from several flight options and reservations, which will be arranged through the concierge team at the D.
Eligible cities included:
Appleton, WI
Austin, TX
Atlanta GA
Boise, ID
Boston, MA
Buffalo, NY
Chicago, IL
Cincinnati, OH
Dallas, TX
Denver, CO
Detroit, MI
Grand Rapids, MI
Kansas City, MO
Knoxville, TN
Louisville, KY
Memphis, TN
Milwaukee, WI
Minneapolis, MN
Oakland, CA
Oklahoma City, OK
Omaha, NE
Orlando, FL
Phoenix, AZ
Portland, OR
San Diego, CA
San Antonio, TX
Seattle, WA
Sioux Falls, SD
South Bend, IN
Tampa, FL
Tulsa, OK
All participants in the "Keep America Flying" promotion were required to be at least 21 years of age. Flight recipients were responsible for return flights home, hotel accommodations, and all additional costs associated with their stay, including cancellations and/or rescheduling.
This was a successful campaign and a win-win for all involved. Stevens received earned media spots that surely exceeded what he spent on flights. At the same time, 1,700 people received free one-way airfare to Las Vegas for a trip away from home.
Coming Soon…Circa Resort
Unlike casinos, construction is considered an essential business. While the doors were closed at Stevens' existing properties work continued on his latest project. Circa Resort is still under construction. The newest casino-resort in downtown Las Vegas is still on pace to open in December as originally planned.
Circa Resort will have a two-story casino floor featuring 1,360 slot machines and 49 table games. The most anticipated part of the casino is the world's largest sportsbook. The multi-level sportsbook will have a 78 million-pixel, HD screen.
The rooftop pool amphitheater will be another amenity that can't be matched in downtown Las Vegas. The pool deck will have six pools, outdoor gaming space, and will be open 365 days a year. The pool deck will have a pre-social distancing capacity of 4,000 people and boasts a massive nearly 14 million pixel screen.