This week, GameCo announced the successful completion of the Field Trial for its Video Game Gambling platform in Nevada. The field trial started in October of 2019 and took place at four casinos in Nevada.
The GameCo field trial for "Nothin' but Net 2" and "All-Star Hoops" video game gambling machines (VGM) took place at The LINQ, MGM Grand, and Park MGM in Las Vegas as well as Atlantis Casino in Reno, NV.
GameCo Field Trial Results
These video game gambling machines are set in cabinets similar to video poker and slot machines. That's where the similarities between the new and traditional casino games end. These are video gambling games that are targeting a younger casino guest. Older gamblers still prefer the casino gaming machines they grew up playing.
The results from GameCo's field trial and additional installations support the company's founding presumption that new and different games resonate and monetize with a younger millennial casino audience.
During the test, over 80% of GameCo's coin in (money played) came from Millennial and Generation X casino guests. For comparison, the coin in from these two generations is about 20% for traditional slot machines.
Additionally, GameCo saw 12% or more play from guests that didn't use a casino loyalty club card than other skill games or slot machines. Customers who don't use a loyalty club card typically identify as new players and new money by casino operators. This statistic shows that these games attract new gamblers. More than one of every 10 players on the VGM's tested weren't a regular gambler at the casinos where the games were tested.
"We are thrilled to complete our Field Trial and this a major milestone for a startup in such a highly regulated industry, we appreciate the support of our trial partners and the Nevada Gaming Control Board," said Blaine Graboyes, co-founder and CEO of GameCo.
The Evolution Of Video Gambling Machines
GameCo was one of the first companies to create video gambling machines. In 2015 the company introduced itself as "a pioneering new company poised to unite skill-based video games with real-money casino floor gaming." The introduced the first VGM's "in an effort to bring a new generation of gamers to land-based casinos."
Even as more gaming manufacturer's hopped on the skill-based gambling trend, the games never quite caught on. Younger players quickly realized that these weren't 100% skill-based games. The games still have a built in house edge for casino operators. Older machine players simply weren't interested in learning to play the newfangled games.
Through the years skill-based games and VGM's from GameCo and other gaming manufacturers have evolved. In 2017, Scientific Games introduced the Space Invaders skill-based slot machine. This traditional video slot game gave the player an option to play bonus rounds with traditional bonus spins or to use skill by playing the old video game for credits. This option for traditional games never quite took off.
Last year, Synergy Blue introduced new skill-influenced games. These are similar to GameCo's VGM's. Both Palms and Red Rock ran a field trial for these games that haven't quite caught on to mainstream machine game players yet.
Today, GameCo has a variety of games available in different types of traditional slot machine cabinets, new style cabinets, and bartop machines.
Casinos in Las Vegas and around the country have closed to help slow the spread of coronavirus. Younger gamblers have traditionally enjoyed the social nature of table games. The experience could change when casinos reopen with social distancing other possible protective installations at the tables.
VGM's have been slow to capture a devoted audience. Casinos will have to change when they reopen. It's possible that younger gamblers could move to gaming machines like GameCo's VGM's.
Coming soon from GameCo
GameCo is planning to bring more new games to casinos in Nevada. Some of the new VGM's include:
Sweet Spot Golf
Destination Tiki
Match 3 Slots game
Steve Aoki's Neon Dream rhythm runner
Star Trek: Voyager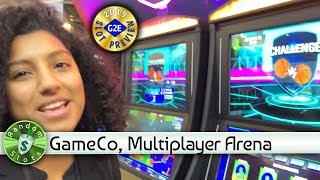 GameCo is also planning to release a first of its kind Multiplayer Arena. This technology will bring a new social experience to the casino floor with VGM's. The games allow people to play head-to-head or esports-style tournaments from the comfort of their own GameCo machine outfitted with this technology anywhere in the casino.